BEAM module
MONOMAKH
®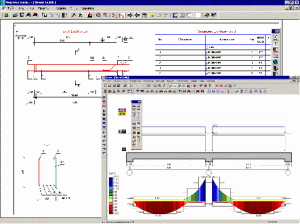 BEAM module enables you:
• to import design model from BUILDING module or generate it in stand-alone mode. Beam may have different height of the section in various spans. Section of beam is rectangular. Flange is taken into account;
• to analyse beam according to ultimate limit states and serviceability limit states;
• to obtain envelope lines for displacements, forces;
• to determine necessary reinforcement;
• to obtain material diagram;
• to use welded or tied reinforcing cages for the beam;
• to arrange reinforcement and draw the beam.

---