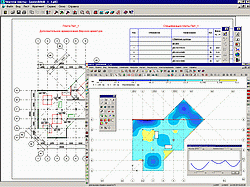 SLAB
module enables you:
•
to import design model from
BUILDING
module or generate it in stand-alone mode. Slab contour may be of arbitrary shape. Variable thickness of the slab and specified holes are taken into account;
•
to analyse the slab together with beams;
•
to take into account the flexibility of supports;
•
to define regions with different soil properties (for foundation slab);
•
to obtain contour plots of displacements and forces, diagrams for the specified line segments;
•
to obtain contour plots of stress under the base of foundation slab or mosaic plots of forces in piles;
•
to export design model to
LIRA
software;
•
to analyse slab according to ultimate limit states and serviceability limit states;
•
to determine necessary reinforcement and obtain contour plots of design reinforcement;
•
to use reinforcing cages and rebars for the slab;
•
to arrange reinforcement and draw the slab.